Pension Leitner
A-9620 Hermagor, Kühweg 42
Our guest house has 14 rooms, all with ensuite shower and WC. The house accommodates a maximum of 70 people, ensuring exclusivity and homeliness for one group at a time, even for school ski groups, resulting in a stress-free experience for pupils and teachers.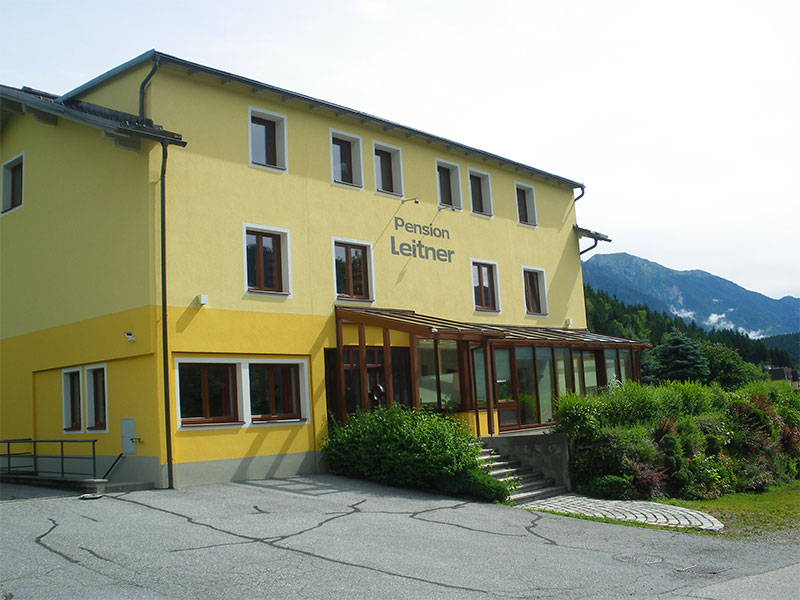 Teachers can expect spacious twin rooms with TV and Hi-Fi, while the pupils` rooms have 3 bunk-beds. All our accommodation has ensuite facilities. Teachers on duty in the evenings can also make use of the sauna with relaxation room.
Our guest house is within a 10 minute walking distance from Hermagor (3000 inhabitants). Its 6 bars, friendly disco, and many shops make it a perfect place to stroll around and have some fun.
The house, over 4 floors, also comprises a large ski room with a work bench for ski repairs and space to store skis, boots and other gear, as well as a large drying room.
There is also a large recreation room with 2 table-tennis tables and 1 pool table, gaming machines, and space for holding in-house discos.
On the top floor there is a big screen for TV, video or DVD which could also be used for presentations or slide shows.
There is a cozy dining/living room on the ground floor, where substantial, varied and healthy meals are served. We are known for our generous portions. We also provide packed lunches for day trips when required.
Elisabeth and her team will take care of you.

SKIING
Over 100 kilometres of pistes, 30 cable cars and ski lifts. 2 snowboard "fun parks" with a "Twinpipe". Only a 10 minute bus ride (shuttles every 15 mins) to the cable car. – bus stop outside the guest house.
CROSS-COUNTRY COURSE
It runs directly past the guest house and has a length of 50 km. Sports hall: We reserve the multi-purpose sports hall at the local school exclusively for our group every Wednesday from 8pm – 9.30pm. It is a short 15 minute walk away. Shuttle bus is also possible. You can use an indoor football pitch (16 x 36m) free of charge. It is roughly 6 km away from the guest house.
ICE SKATING
Ice skating in the sports centre: approx. 30 minutes on foot. To the Pressegger Lake 5 minutes by car. Ice skating boots available to hire

ICE HOCKEY
Ice hockey pitch in the sports centre: approx. 30 minutes on foot. Ice hockey sticks available to hire from us.
BAVARIAN CURLING
Several ice rinks available for use.

TOBOGGAN RUN
In Kühweg or Tröpolach. Sledges available to hire Walks by lantern and torch light BOWLING: 2 bowling lanes in Hermagor
TENNIS
The tennis hall with 2 courts is 2 km away.

INDOOR SWIMMING POOL
Villach – thermal pool Kötschach – heated pool

Sauna
Our new sauna will warm up those cold winter nights for you! 
Classy
Our guesthouse is up to date and tailored to your needs
Classy
Our guesthouse is up to date and tailored to your needs